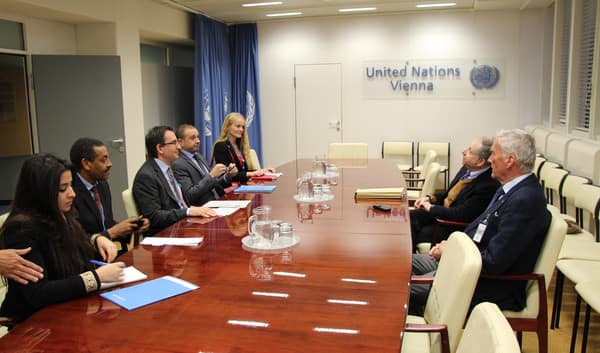 United Nations Country Team in Austria
The Special Envoy introduced the terms of his role and mandate as well as provided an overview of key priorities and upcoming activities. As UN agencies represented in the meeting have a large presence in the field, the Special Envoy spoke about the UN Internal Strategy for Road Safety and encouraged its implementation in the field, once launched. He also gave an overview of a potential UN Road Safety Trust Fund, which was received with support. The following UN representatives participated at the meeting:
o Mr. Roberto Arbitrio, Chef de Cabinet and Strategy Advisor to UNOV Director-General, O-i-C of UNODC
o Mr. Kevin O'Hanlon, Chief, Security and Safety Service, United Nations Office in Vienna
o Mr. Dejene Tezera, Chief, Rural Entrepreneurship, Job Creation and Human Security Division, UNIDO
o Mr. Giovanni Gallo, Senior Legal Advisor, Office of the Executive Director of UNODC
Mr. Romain Pison, Senior Transport Specialist, World Bank
On 15 December, the Special Envoy met with Mr. Pison in Vienna and gave an overview of his mandate and priorities. Mr. Pison shared information about the World Bank operations in the Western Balkans and Asia, where he manages projects in trade, connectivity, and intelligent transport systems. The Special Envoy further shared about his strong collaboration with the World Bank and the work underway to establish the UN Road Safety Trust Fund.