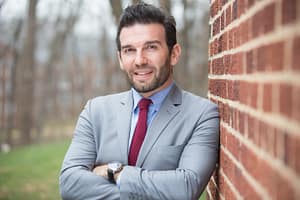 Romain Pison is an entrepreneur and internationally-recognized decarbonization specialist with a strong focus on ESG and green infrastructure. As co-founder of the company Wiia in 2020, Romain marries artificial intelligence and data analytics to elevate impact investment and advisory services. His expertise is backed by significant roles at the United Nations, World Bank, and as Head of ESG in the green infrastructure sector. Leveraging over two decades of professional experience and a deep-rooted passion for the environment, Romain has made significant strides towards a more sustainable future through his work in ESG (Environmental, Social, and Governance) principles and green infrastructure.
In his capacity as the Head of ESG at SYSTRA, Romain Pison has been instrumental in driving the company's market growth in ESG consulting and advisory services. His strategic guidance to banks, asset managers, and private equity firms, with a special focus on infrastructure, biodiversity, supply chain, and nature-based solutions, has been pivotal. Under Romain's leadership, SYSTRA has witnessed significant growth in its business pipeline for advisory services, with services ranging from ESG strategy, decarbonization strategies to TCFD (Task Force on Climate-related Financial Disclosures) aligned assessments and scenario analysis, with both public and private clients.
Before taking the reins at SYSTRA, Romain co-founded Wiia in 2020, an AI and NLP (Natural Language Processing) platform that revolutionized the bidding process for sustainable and green projects. Before ChatGPT existed, Romain environed the use and functionalities that could be derived from Artificial Intelligence applied to text content, and eventually, to bidding processes. At Wiia, he harmonized cutting-edge technology with ESG objectives to optimize the bidding process, creating a synergy that not only saved time and resources but also elevated technical value propositions. Romain's impressive clientele includes prominent names like Royal Haskoning DHV, Egis, and Total Energies. With Wiia, Romain grew a small AI consultancy to a multimillion business that got several "Best AI startup in the UK" awards.
Romain's professional journey spans influential roles at renowned organizations like the World Bank and the European Commission. His expertise in green infrastructure finance, strategic ESG policy assignments related to decarbonization, and energy transition has had a profound impact on both private and public markets globally. Notably, he served as the Senior Green Infrastructure Specialist at the World Bank, where he led the management of infrastructure portfolios in the Western Balkans region, steering projects valued at approximately $500 million.
An exceptional highlight of Romain Pison's early professional journey was his acceptance into the prestigious and selective Young Professionals Program (YPP) of the World Bank Group. The YPP, an initiative designed to attract diverse, high-potential talent committed to international development, has been the launching pad for the careers of many senior leaders in the World Bank Group. The program, known for its rigorous selection process, recruited Romain in recognition of his academic achievements, professional prowess, and potent leadership skills. He joined in 2013 the esteemed ranks of over 1,800 individuals (from over 400,000 applicants) from almost 120 countries, representing a wide array of expertise and backgrounds.
As an author and speaker, Romain has contributed significantly to the discourse around energy transition, sustainability, policy, and decarbonization. His insights and expert commentary have been published across multiple platforms, including Medium, LatestLY, Mintlounge, and the Hindustan Times. One of his most notable pieces, "Hydrogen Mobility Needs To Be Leveraged To Complement Electric Mobility," published on LatestLY, underscores his forward-thinking approach to sustainable energy.
In 2023, Romain Pison unveiled his debut literary work, "Green Horizons: My Journey Through Asia's Urban Transformation Towards Sustainability." The book illuminates his experiences in sustainable transport and policy-making in East Asia, giving readers unique insight into the region's evolution towards a more sustainable future. This written journey doesn't stand alone; it echoes and complements the insights and dialogues featured in his podcast, "Innovating Green: The Future of Decarbonization with Romain Pison." As an entrepreneur and ESG specialist, he engages fellow experts from the climate and impact investing arenas in deep, insightful discussions. They explore subjects from energy transition to a diverse array of perspectives on climate change and climate action. Each episode of "Innovating Green" delves into the core of green infrastructure, the transformative potential of technology, and the worldwide efforts propelling us towards a sustainable tomorrow. This dynamic exploration of green innovation, like his book, underscores Romain's commitment to shaping a sustainable future.
On his blog and website, Romain regularly shares thought-provoking articles and opinions, emphasizing the importance of the energy transition and how technology can support the journey towards decarbonization. His writings highlight his extensive knowledge of AI, ESG principles, and green infrastructure, offering strategic guidance and transformative solutions to global climate challenges.
Romain Pison's dedication to policy, decarbonization, energy transition, and sustainability is not only evidenced by his extensive work experience but also deeply rooted in his educational journey. He holds a Master of Science degree from New York University, where he focused on Management, Project Finance, Economics, and Finance. His thesis, titled "Sustainability Evaluation of Center Education 2000+: A Case Study on Educational Reform and Civil Society Engagement in Romania," scrutinized the sustainability and ESG impacts of Center Education 2000+, a transformative NGO dedicated to educational reform in Romania. This investigation enriched his understanding of stakeholder engagement, policy adaptation, and the roles of NGOs in sustainable development within the framework of shifting EU policies.
Romain further augmented his expertise with a Master of Science in Sustainable Urban and Transport Planning from the renowned École nationale des Travaux publics de l'État. His coursework concentrated on weaving sustainability into urban and territorial planning, economics, and transport modelling. The program reinforced his ability to incorporate ESG considerations across various sectors, including engineering firms, urban planning agencies, consultancy firms, public enterprises, government departments, and NGOs. A specific emphasis on crafting policies and strategies that foster sustainable urban growth, eco-friendly transportation systems, and inclusive local democracy laid a solid foundation for Romain's distinguished career path in the sustainability and decarbonization landscape.
Romain Pison is a leader in the fields of sustainability, energy transition, and decarbonization. As an entrepreneur, consultant, and thought leader, he consistently pushes the boundaries of what is possible in the realm of ESG and green infrastructure. His extensive body of work in sustainable investing, policy advisory, and ESG principles continues to influence and shape the industry towards a more sustainable future. With his unwavering commitment to environmental stewardship and his innovative approach to problem-solving, Romain Pison remains a key figure in the fight against climate change, making strides towards a more sustainable and resilient world.