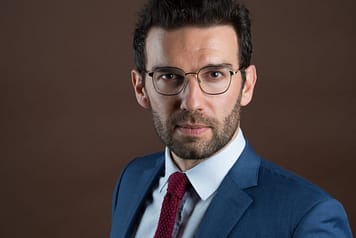 I have dedicated my career to decarbonisation, innovative green solutions, and transformative climate action. My work, whether as CEO of WiiA or a senior transport specialist with the World Bank, or Head of Climate and Sustainability, has always been deeply rooted in policy advisory because I believe that policy matters for climate change and it shapes our collective response to this global challenge more than anything.
Climate change is a profound crisis that requires a coordinated, international response. Policy plays a pivotal role in shaping this response by providing the framework through which transformative action is channelled. As evidenced by my experience in hydro mobility and decarbonisation, policy provides the roadmap for initiatives ranging from green urban planning to the creation of sustainable transportation systems – but there is transformative change only if there is a courageous policy shift backed up with financing.
We live in a time where fiscal constraints faced by countries make it challenging to find necessary resources for climate action. However, with effective policy-making, financial hurdles can be overcome. For instance, the World Bank Group delivered a record $31.7 billion in fiscal year 2022 to help countries address climate change. This achievement reflects the power of targeted, strategic policy-making. Policy combined with financing can be a powerful tool.
My experience as an advisor to the World Bank underscores the significance of policies aimed at resilience and adaptation. After a severe flooding event in Bogotá, Colombia, the city implemented a combination of flood-control infrastructure and nature-based solutions, repurposing riverfront areas and reducing flood risks. This is one example of the transformative potential of policy – it can help guide cities towards greater resilience in the face of climate disasters.
My advisory work also involves integrating sustainable and innovative practices into infrastructure projects. The role of policies here is to ensure that new developments are in alignment with broader climate objectives. For instance, the integration of nature-based solutions in several projects showcases the constructive interplay of innovative practices and policy guidance. We need to have supporting policies to re-integrate nature at the heart of our investment projects.
The Paris Agreement is a prime example of the influence policy can exert on a global scale. The Agreement, a landmark policy document, sets ambitious climate action targets for 196 countries. The commitment to limit global warming to 1.5°C above pre-industrial levels serves as a policy guidepost for nations worldwide, informing their national climate action plans, or Nationally Determined Contributions (NDCs).
Policy advice is instrumental in shaping these NDCs. As an advisor, I help governments understand the climate impacts of their actions and make informed decisions that align with the Paris Agreement's goals. It's a crucial role that bridges the gap between international commitments and national action. In my opinion, effective policy advisory needs to strike a balance between global climate goals and national circumstances. It's about understanding the uniqueness of each situation, providing practical and actionable guidance, and always keeping the bigger climate picture in view.
Indeed, policy matters because it serves as the central pillar that underpins our entire response to the climate crisis. It influences decisions, from grand scale financing initiatives to the everyday actions of individuals, steering us towards a more sustainable and resilient future. Consider, for instance, President Biden's efforts to combat the climate crisis, which provide a stellar example of how policy can drive tangible change.
President Biden came into office with the conviction that the climate crisis isn't just a challenge, but an opportunity for America. His belief was clear: we need to tackle climate change head-on, not just because science demands it, but because it's a chance to build a better future for every American. When he rejoined the Paris Agreement, it wasn't just about numbers and targets; it was about reclaiming America's seat at the table of global leadership.
In the US, we've seen the creation of a first-of-its-kind National Climate Task Force. Picture this – over 25 Cabinet-level leaders, each bringing unique expertise, working tirelessly towards one unified goal: to lay the groundwork for a cleaner, healthier, and more sustainable America. We're not just talking about reducing greenhouse gas emissions or transitioning to pollution-free electricity. We're discussing transforming the core of America's economy to net-zero emissions by 2050. But Biden isn't just focused on grand-scale environmental impacts. He is insistent on delivering 40% of the benefits from federal investments in climate and clean energy to disadvantaged communities. This is not just policy – it's a reflection of a deeper commitment to equality and social justice. Under Biden, it's clear that our climate response is about more than just saving the planet. It's about building a future that works for us all.
The US administration's efforts to cut emissions, enhance resilience, advance environmental justice, and attain true energy security present a real federal mobilization. This mobilization has already triggered unprecedented progress:
In 2021, the United States set records for clean energy deployment, with enough new solar and wind projects activated to power 10 million homes and a tripling of utility-scale battery storage capacity. Since President Biden took office, the road has welcomed its two-millionth electric vehicle. Corporations announced investments of over $100 billion in American EV manufacturing, and the installation rate for public EV chargers nearly doubled.
In the realm of clean energy, the sector emerged as the largest job creator in America's energy landscape, employing over 3 million Americans in 2021 and offering wages 25% above the national median.The US also collaborated with E.U. counterparts to persuade over 100 countries to join the Global Methane Pledge. This new partnership aims to reduce super-polluting methane emissions by 30% from 2020 levels by 2030.
So, here's my take on policy – it's far more than just a set of rules or regulations. It's a proactive and passionate commitment to preserving our planet and change the way we think about our economy. Imagine policy as a lighthouse, guiding us toward a future that's both sustainable and equitable, with every decision we make, every action we take, reflecting the urgent need to stand up to climate change.
Let me take you on a journey through my experiences – from exploring the potentials of renewable energy to delving into adaptation finance. Each of these adventures has etched the importance of policy in my mind, and shaped my understanding of our response to climate change. I am not just a policy advisor. I am an architect of a sustainable future, helping nations find their way through the tangled pathways to a low-carbon tomorrow.
I won't mince words here – the climate crisis is not knocking at our door, it is inside our house, and the task we have ahead is monumental. But I carry a torch of optimism. I have faith in the power of robust policy guidance to elevate us to meet this challenge. Because, believe me when I say, policy isn't just some bureaucratic tool. It's the lifeblood of our planet's future. It's the heartbeat of sustainability. And it's absolutely crucial to preserving life as we cherish it. – Romain Pison