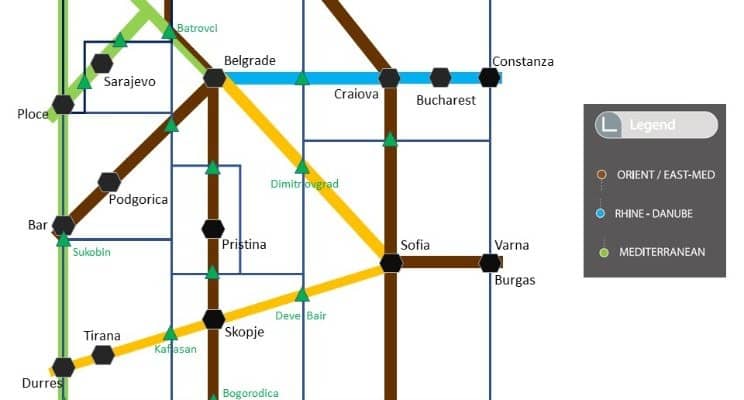 Can you conceive that the most recent World Bank estimates relating to the costs to fully develop and rehabilitate the key corridors in the Western Balkans are about EUR 8 billion over a 5-year period? So, the infrastructure costs are just over EUR 1.5 billion a year.
In parallel, did you know that if we improve logistics, freight and custom operations, at the EU levels, with marginal investment, the order of magnitude of possible savings is about 1% of the region's GDP or about EUR 1 billion a year. So, that means that operational optimization could potentially cover 2/3 of the core infrastructure investment costs! Great news!
That is how you could transform freight transportation in the Western Balkans. By optimizing and streamlining border crossings, one could increase growth in the region by 1% of GDP per year for the next 15 years, and generate more than 200,000 jobs, and help finance the modernization of the infrastructure.
How do you specifically do that?
You can do that by focusing on border compliance and time spent at the borders, which include customs clearance and inspections by border agencies. This is where you will find most cost of exporting and importing. Firms in the Western Balkans that are exporting to the region reportedly face many non-tariff measures, including additional testing requirement and differential treatment. By harmonizing procedures, work on border agency cooperation, and data interchanges across agencies, you can reduce more than 30% of the transit time of a product across a Western Balkans country.
The ultimate vessel of such an objective is the implementation of a National Single Window solution that will combine IT, border queuing systems, infrastructure, and governance related improvements at the borders. This is key in the Western Balkans to help reduce administrative costs to trade, and to provide more transparency and predictability for traders through streamlining and automating regulatory obligations related to import, export and transit clearance processes.
This is what our team is working on with all countries of the Western Balkans. Our team at the World Bank, with the support of our management, is committed to help the 6 countries to streamline border crossings in the region, improve the efficiency of logistics services and deploy modern technologies to improve freight transport and get goods to customers faster.